It's not that easy
Let's all agree on the fact that it's not easy. Whether you're still studying and dealing with a bunch of applications or have already graduated and you're getting into the stressful cycle of rejection. It's not easy! It's the feeling of uncertainty, not knowing what's coming up, unable to make plans, starting to wonder whether it was all worth it.. STOP! Let's take a deep breath. First of all, you're not alone, most graduates are going through the same thing and secondly, worrying isn't going to make anything better, you have to be proactive. You might be thinking, "What should I do then?". Well, I've got some tips for you!
Fight to survive!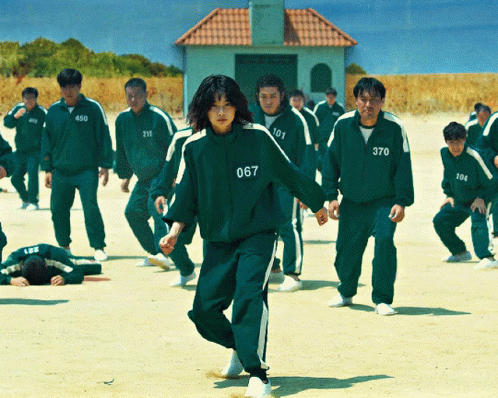 It's a bit like Squid Game right? A bunch of graduates applying for a role but at the end only a few will get it! You have to maximize your chances of winning. As previously said, you need to be proactive, but what does that actually mean? It means that you've got to bulk out your CV! Now you pretty much know what employers are looking for and you want your CV to stand out. Find the time to learn new skills or take part into activities that will help you strengthen your CV. I've got some ideas for you.
Volunteer. Volunteering is great to get started, it'll help the community and  give you something to add to your CV.  Depending on the type of volunteering your do, you can gain a wide range of skills that you can then highlight in your applications. You could do it at the NHS, for TFL, Tate Modern, help people in need there is an unlimited number of options available!
Start an online course. I'm sure you've thought about it, and said, "Nah, I'm ok." Are you though? Remember, only a few will leave with the prize, employers receive hundreds of CV's and have other things to worry about. Writing "hardworking and curious" on your CV will not impress anyone. Now we're talking about actual qualifications and skills that you can gain. It's worth the time and effort! Don't hesitate, there are thousands out there to help you go the extra mile and stand out!
Start a blog or website. The employer wants to know more about you. A website is the best way to show your skills and accomplishments. It can be about anything you like or about something you want to learn, it doesn't matter. You want to tell the recruiter, "I am rigorous and organised". If they like your writing style, it's even better!
Learn how to code. That's it, you've made it to the fifth game, you're knackered and about to break. Don't panic, you just need to pick the right number! That's what coding is, it'll help you no matter what. Just do the best you can and focus on gaining a new skill! Coding is like anything else, it takes time and dedication, but once you've got a good understanding of the basics, you can undertake projects and potentially add things to your CV! I'd recommend Python, Java or SQL to get started.
Start breathing again
You already feel a little better right? Now you know that there are more options, you feel less stuck and you're already starting to think about what to do next! Right, that's great but take a moment to breathe! By this, I mean, you need to take your mind off all this stress.
Exercise! What's better than exercising to distract an anxious mind! Go for runs at the park, try dance classes or hit the gym regularly, whatever makes you sweat. Exercising triggers the release of dopamine and serotonin which can significantly improve your mood. What are you waiting for? A healthy mind in a healthy body!
Get off your screen.  You know what I mean. Coursework, then Indeed, then Youtube, checking your mails, then Instagram, then.. NO! Take a break. You need it. There is only so much your brain can take. Try to take time off your screens during the day. You can call a friend instead, cook, read a book? You mainly want to stay away from all those Black Mirrors and recharge.
Food. You need to eat proper food. You've just spent the past three years eating pasta and tomato sauce. It's time to change your diet. The better you eat the better you're going to feel! Take that box of frosted Shreddies, swap it with healthy fruits and vegs and make sure to get all your nutrients! Remember what we said: A healthy mind come with a healthy body!
Go on a trip. You should go somewhere. It doesn't have to be far, it can be in your city or in a different country. Taking a trip to somewhere new will help distract your mind and relieve stress. We're humans right? We're not meant to stay in the same place every single day. Throughout the centuries, civilisations travelled, hunted and discovered new places! It's part of your nature so just give a go and thank me later.
Please follow and like us: